The beach is just the beginning... sounds the paradise island´s slogan. Even this is a moderate promise, as Antigua has more than 365 beaches - one for for each day of the year - in the west or the wilder Atlantic Ocean in the east.
ACTION & ADVENTURE
In Antigua there is nothing better than soaking up the sun and rum punch! However, the island has a great deal more to offer, memorable and exciting adventures available both on land and at sea.
Island Safari, Eco Kayaking, Swimming with stingrays or Circumnavigation are the most popular programs. Deep Sea Fishing is gentlemen favourite day out with fishing for marlin, tuna, kingfish, wahoo, barracuda or even shark in the Atlantic fishing grounds of Antiqua. Scooba diving, snorkeling, windsurfing and many more is offered here.
SISTER BARBUDA
The island of Barbuda is 27 miles off the north coast of Antigua. This coral-fringed island is renowned for its tranquility, crystalline waters, deserted beaches and delicious lobster.
SUPERSHOPPING
The main duty-free shopping areas in St.John´s are Redcliffe Quay and Heritage Quay. The boutiques, jewellers, craft shops and adjacent market are complemented by quaint cafés and bars.
ARTISTIC ANTIGUA
The purity of light and colour in Antigua combines with its intrinsic tranquillity to inspire a whole host of Caribbean artists. There are some excellent galleries on the island representing a wide range of art, craft and media.
Antigua - The island of 365 beaches
Anguilla is located in the Eastern Caribbean, the most northern island in the Leeward Island chain, less than ten miles north of St. Martin and 200 miles east of Puerto Rico. 33 pristine beaches of all kind - with stunning, white powder sand and tranquil waters ranging from aquamarine to cobalt blue. Beyond the beautiful beaches this warm and friendly island offers plenty of activities, culture & arts, as well gastronomical highlights.
ACTIVE ANGUILLA
Anguilla is a sporty island. Boat racing is the national sport and also cricket, soccer, tennis, cycling, weightlifting and much more sport arts have passionated fans there. From early in the morning, Anguillians are out and about, taking brisk walks with weights in hand, swimming the length of Rendezvous Bay, cycling the Main Road, or hitting one of Anguilla's state-of-the-art fitness clubs. Golf lovers will find also their passion on the Greg Norma designed championship course on 7,063–yard with dramatic elevation changes, water features on 13 holes.
SHOPPING
Anguilla´s shopping mile offers wide range of products with sophisticated brands, designer beach wear, fine jewellery and suvenier shops. The eclectic combination of galleries and art shops with several gourmet eateries gives the unique Caribbean feeling. Cash sales are preferred, but several shops offer credit or debit card services.
ARTS
Creative, passionate, peaceful expressions abound. From canvases of color and driftwood carvings, to the sounds of steel pan and guitar, the island articulates its joy of life through music, art, poetry and dance. The individual celebrates creativity with complete freedom on Anguilla. Artists from around the world have come to join the local artist community in pursuit of their creative muse. Galleries are abundant and gentle music fills the air, celebrating the individual, the community, the life.
Anguilla - Relax in style
Barbados - Art of fine living
Barbados is the preferred vacation destination for generations of A-list celebrities from all walks of life and ranked in No1 in the Caribbean for the greatest percentage of repeat visitors. Thanks to a year round climate of near perfect weather conditions, salubrious natural environment and a safe, tolerant and harmonious society, Barbados has became one of the world´s most aspirational destinations.
BARBADOS EXPERIENCE
Zooming along in a safari jeep through forest trails, ziplining over the tree tops of a gully, careening across the seacliffs on a segway, flying over the island in a Microlight aircraft, meandering through 4 tropical gardens, walking with the monkeys, swimming in sea caves that open out to the Atlantic ocean, roaming around working potteries, clambering along underground streams, driving through vast stalactite filled caves, sampling rum in a refinery or exploring the cockpit of a supersonic aircraft - sounds like a fun? There´s all that, and so much more to do, in the small island of Barbados.
DINING & PARTYING
One of the greatest attractions of Barbados is the wonderful variety of food on offer. This is very evident when considering the incredible range and diversity of restaurants and dining options available on the island - the Dining Capital of the Caribbean. Barbados has been blessed with a rich culinary heritage has been fashioned over the centuries by influences of Amerindians, Africans, Europeans and Asians. But Bajans love not only eat - also love to party. Barbados if fun! Rum and Dance all year round.Wide range of high quality nightclubs, bars, reggae clubs, rum shops dinner shows and great liming sports. Dont miss it!
ARTS & CULTURE
Bajans are a creative people who love to enjoy a life accompained by wonderful music. Open air music events are put on throughout the year and have an incredible vibe including the Naniki Caribbean Jazz Safari, Holders Season of Opera, Corp Cover and the Reggae Festival. There are countless wonderful art galleries across the island with a vast selection of stunning work - both international and local. Homes in Barbados are always filled with a suprising collection of original art. Great presentation you will see in our collection of beautiful luxury villas for rent.
SHOPPING QUEEN
Duty free shopping in Barbados is exempt of both import duties and VAT, making purchases 25-30% less expensive. With flagship stores for names like Louis Vuitton and Cartier it is a great opportunity to take advantage of the over the counter duty free shopping in chic and comfortable shopping centers like the Limegrove LIfestyle Center on the glitzy west coast.
Saint Martin - Laid back elegance
Days filled with sunshine, velvet soft nights and breathtaking scenery are only some of the ingredients that create the unique feel and taste that reflect Saint-Martin.
Peel back the layers of an enticing island. Explore the panoramas of our colorful scenery dominated by flaming bright red, orange and yellow flamboyant trees. Take a walk on the wild side of Saint-Martin and explore its hills on a zip line or by horse back. Pick a sun kissed mango dripping with cool juices or a coconut filled with nourishing water. The French-Dutch island is a paradise for beach and nature lovers, gourmands, party- and shopping queens. Enjoy your holiday in stunning luxury villas for rent.
WATER WORLD
A magical island resting like a picture book between the Atlantic Ocean and the Caribbean Sea, Saint Martin has something for everyone. Whether you're here for swimming, sunbathing, sports or simply to relax, there's room for everyone to find their own little piece of paradise.
The waters off the beaches of St Martin are clear and warm and perfect for exploring the local marine life with a snorkel and mask.Water sports are by no means the only activities available on the island, but they are by far the most numerous. With surfing, windsurfing, wakeboarding, jet-skiing, kite surfing, water skiing, kayaking, sailing and deep-sea fishing on the menu, anyone looking to try out an extreme sport will find everything they are looking for on Saint Martin.
ISLAND OF NIGHT BIRDS
St. Martin features some of the most exciting nightlife in the Caribbean. Night-time activities reign supreme on St. Martin all year round. At dusk, the island dons its party gear.Once the last rays of the sun have set over the horizon, trendy beach bars, clubs and dance venues prepare to welcome their clients for a night to remember.Why not make that night last forever under the lights of one of the Dutch side's fifteen casinos or try your luck until the wee hours of the morning?
Adjacent to Princess Juliana International Airport, Maho village is a one-of-a-kind mini-Vegas of the Caribbean, with all the sequins and glitter, lights and music, nightclubs and casinos to go with it.
CUISINE
St. Martin is a melting pot of taste bud-tickling cuisine and has established a worldwide reputation for its fusion cuisine, and it shows no sign of stopping. A subtle blend of flavours combining innovation and tradition, one of the island's gems. The variety of foods available on the island is vast, with fish, lobster and shellfish, succulent meats and traditional barbecues on the menu, all served up with local spices, Creole sauces or tropical fruits.
Surrounded by traditional décor and authentic flavours, aromas and even the accents of the waiting staff, dining out in St. Martin can feel like taking a quick trip to a foreign country thousands of miles away.
SHOPPING
French style luxury meets Dutch coolness, not to mention the unbeatable prices on a whole host of items. The impressive air-conditioned West Indies Mall on Marigot water front contains many well-known shops and restaurants and is worth the visit. The Marina district and the Rue du Général de Gaulle are also high fashion hot spots. Get fashioned on your St. Martin holiday!
Turks & Caicos - Beautiful by nature
Luxurious nature in light turquoise. Turks & Caicos is taking you truly by its amazing nature on 40 islands with world´s best beaches and the world´s third largest barrier reef system. Donna Karan´s favorite Caribbean destination enchants with unique natural attactions. From the 40 islands are only 8 inhabited. The islands of the Turks and Caicos are almost as diverse as its people. From the main tourist center of Providenciales to the quiet and tranquil islands of North and Middle Caicos to the historic Capital Island of Grand Turk; each one offers a different experience and a unique character but all offer year round great climate, beaches and underwater activities - you will enjoy if you spend your holiday in one of the luxury villas on the islands.
PROVIDENCIALES
Providenciales is the most well known of the Turks and Caicos Islands and is the center of the tourism industry with a wide range of hotels, restaurants, attractions and facilities. Grand Turk and Salt Cay offer a glimpse into Caribbean history with great Bermudian architecture and a rustic charm as well as some of the best diving and probably the most "relaxing" time you will ever have. Grand Turk is also home to a brand new cruise ship center.
THE BOUTIQUE ISLANS
Why not also visit the boutique islands Parrot Cay and Pine Cay where seclusion is the order of the day.
THE CONCH EXPERIENCE
South Caicos is the center for fishing, with lobster and conch exported from the islands, the historic Cockburn harbor and the natural phenomenon of the boiling hole. This small yet friendly island offers many secluded beaches with awe inspiring views of the turquoise waters and surrounding islands.
CAYAKING AND ECO SAFARI
Enjoy the natural beauty of Grand Turk as you kayak to Madison point and explore the coast on foot. Take in the beauty and tranquility of nature as you paddle your 2-person glass bottom kayak through gentle, shallow waters surrounded by mangroves, exploring small coves and learning about the importance of mangroves. See various plants, birds and an impressive Osprey nest. The clean bottom kayak will allow you to see the marine life that lives in the beautiful Caribbean Sea. Enjoy an eco-adventure walk along the coastline- great for bird watching.
EAT & MEET
After exhaustive sport and other active programs you will appreciate the wide range of culinaric offers of the islands. The various islands in the Turks and Caicos differ greatly in restaurant and dining offerings. Seafood such as queen conch, fish and lobster of course are the primary ingredient of the traditional local cuisine with sides of spicy rice with beans or peas, and locally-grown mixed green and vegetable. Over the last decade, Providenciales has become an excellent destination for fine dining and we have a true abundance of restaurants. It's commonly said that San Francisco is the city with the most restaurants per household in the United States (at 39.3 restaurants per 10,000 households). However, the Turks and Caicos Islands easily surpasses the Fog City with a ratio of 74.6 restaurants per 10,000.
Jamaica´s unique personality derives from a fusion of influences from allcorners of the globe, expressedas one through its infectious people and their laid-back lifestyle. Whether it´s the delicious aromas and flavours of jerk chicken barbecuing on the beach or the sound of Reggae music in the streets, Jamaica never fails to impress, enthral and suprise its visitors in equal measures.
BEACHES
From long sandy stretches to crystal clear water and secret coves, Jamaica´s beaches are where you start your holiday and make memories to last a lifetime. If you are looking to run, there´s nowhere like Seven Mile Beach in Negril. With over 10 km of sand it´s the lingest beach in Jamaica and perfect for an early morning or sunset run.
THE REGGAE LEGEND
The legendary musician, Bob Marley's home has been turned into a museum from his wife few years after his death. The 19th-century architecture building was Bob Marley's home and visitors can view his personal treasures and every aspect of his life. The property also features a 80-seat theatre, a photographic gallery, and a gift shop with Bob Marley and Jamaica relics. A truly authentic program on the colourful island.
GLAMOUR EFFECT
In the 50s and 60s it became a magnet for Hollywood icons such as Errol Flynn, bringing the world´s attention to the charm and character of this beautiful island. Jamaica is also the birthplace of Island Records, created by Chris Blackwell, who signed several major artists like island legend Bob Marley and U2.
TASTE PARTY
With influences from all over the world, and own natural produce and spices, Jamaica is any foodie´s place to be. Things are here just sweeter, tastier and more colorful, as everything on the island. Jamaicans put their love and magic in their dishes, but not only. There are influences from all over the globe with different flavors; Cassava from our native Arawaks, pickled meat and fish from the Europeans, yams and bananas from Africa and curry from the East Indians. Put it all together, with own tasty produce and local flavors, and what do you get? The delicious Jamaican cuisine.
Jamaica - All Right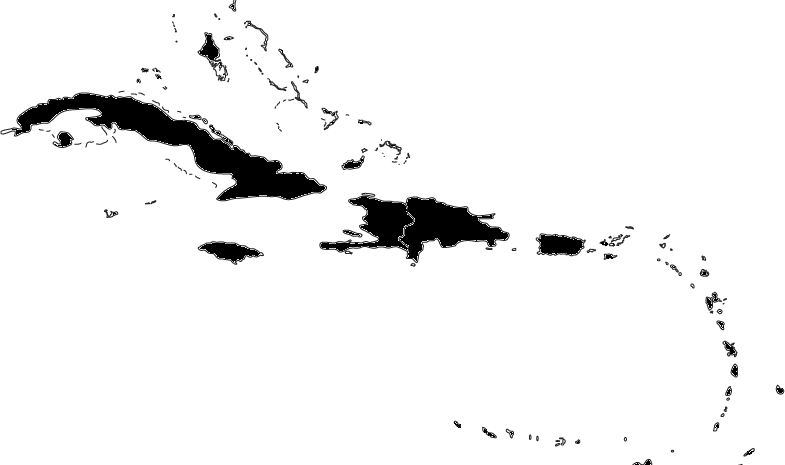 Cuba
So many beautiful islands in the Caribbeans - all with their own personality, colors, tastes, nature and people. Their common features are the fantastic weather through the whole year, fantastic beaches and happiness - promise paradise on earth. Find your luxury villa or your boutique hotel and enjoy your holiday!
Dominican Republic - Has it all
This multi tasking superb island is the second larges country of the Caribbean, shares the Island Hispaniola with the Republic of Haiti. The Dominican Republic is a traditional destination offering wide range of luxury villas for rent and boutique hotels, as well plenty of activities on the sea and on land, pristine beaches, world class golf courts, culture and gastronomy.
BEACHES
White sand, golden sand, pebbles - you have here all. Difficult to say which is the most beautiful one, as the island offers many of them for any tastes. One of the most beautiful one is the Playa Juanillo at Punta Cana - miles of white sand beach with turquoise waters, tropical food and drink stands and watersports. Playa Las Galeras is a unique, quiet beach in the most northeastern tourist destination. Boat taxis depart from here to Rincón and other Samaná beaches. The highlight of this long beach is the recreational diving aquarium built by a Japanese man, Kaio, in front of Grand Paradise Resort. Playa Anadel is a fantastic private beach club in Samana area. You will enjoy the servcies, sport facilities and dishes from the morning till late in the evening.
GOLF
Punta Cana area has several great courses. Puntacana Resort & Club features 45 holes of championship golf with 6 ocean front and 14 oceanview holes onTom Fazio's Corales, and P.B. Dye's La Cana. The images of these irrealistic beautiful sites give already huge portion of recreation value. After a challanging round enjoy the beach, the spa, shopping or several other club facilities.
FOODIE ISLAND
Dominican Republic cuisine is made up of a combination of Taino, Spanish and African influences. Typical cuisine is quite similar to what can be found in other Latin American countries but many of the names of dishes are different. Breakfast usually consists of eggs and mangú (a boiled cassava or some other root vegetable). For heartier versions, these are accompanied by deep-fried meat and/or cheese. Similar to Spain, lunch is generally the largest and most important meal of the day. Lunch usually consists of some type of meat (chicken, pork or fish), rice and beans, and a side portion of salad. 'La Bandera', the most popular lunch dish, consists of broiled chicken, white rice and red beans.
Your Escapeto the Caribbean
Exciting, unique, amazing. The Big Apple is an absolute must-see world city. Breathe in and feel the cosmopolitan and bustling lifestyle from Manhatten to the Hamptons.
MIAMI
Miami is awaiting with sparkling lifestyle, beach clubs, architectural highlights, arts and great foodie experiences. Make an excursion to the Everglades and dont forget to make a shopping day!
CALIFORNIA
Discover the entertainment state on the west coast. Endless possibilities for every ages and tastes. Visit San Francisco, Sacramento, the Napa Valley, Los Angeles and Disneyland.
We help to organize your entire trip from your front door and back. Enjoy the journey!
Tell us about your special requirements, interest, group configuration and destination. We will tailor your escape together.
Contact us as best for you. Use the travel designer, call us or drop an email.